Everyday | Calendar Widget
The missing link in between your calendar and widget on Android.
Everyday is a widget for Android to check the calendar information from the home screen. It is highly customizable with a best-in-class theme engine to match your style.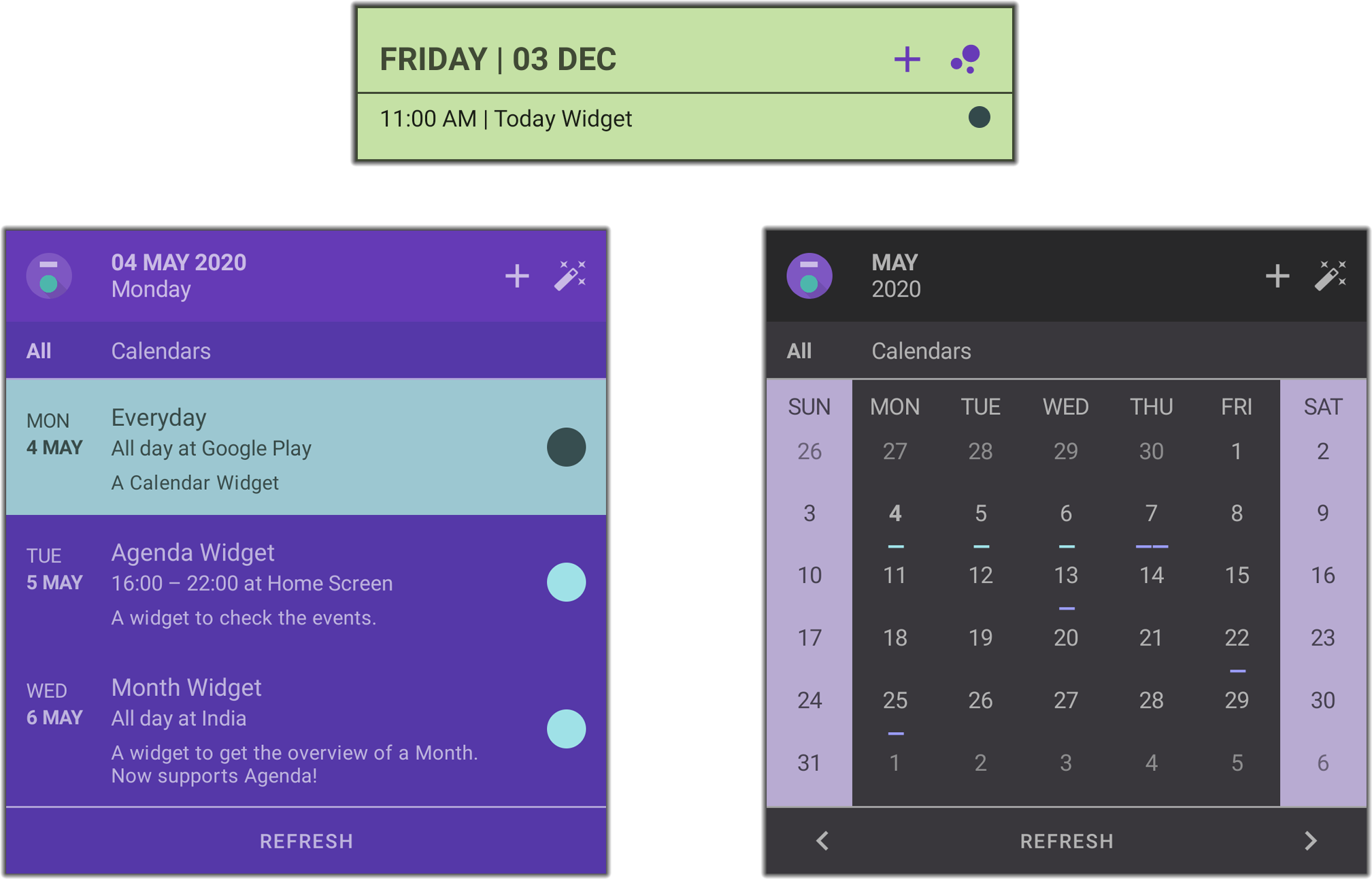 Today, Agenda and Month Widgets
---
ToC
Table of Contents
Background
Everyday is my second major app for Android and first after Rotation. Android already has various great calendar apps but their home screen widgets are not that intuitive. So, I decided to make the missing link in between your calendar and widget. Android has a very old app widget API and I wanted to create a consistent and fully customizable experience which is not a very common and easy task. I am glad that I have achieved it by making rigorous efforts and open-sourced it so other developers can also take advantage.
Please check the dynamic support library for development related info.
Widgets
It provides Agenda and Month widgets supporting multiple instances so that we can customize each widget according to our need like having different widgets for different calendars.
Agenda
A widget to check the events.
Today
A widget for the things that matter the most.
Month
A widget to navigate through the various days.
Settings
Calendars  •  First day  •  Days count  •  Empty days
Events count  •  Events indicator  •  Events visibility and more.
---
Reviews
Please read below what users say about Everyday.
Handy little widgets
Great for anyone using google calendar!

Beautiful app, very customizable, great great developer support. What can I say, it works smoothly and is easy to use. I'd give it another 5 stats if I could.
Beautiful design
Must say beautiful UX.

I'm in love with the UI! Its sweet. Keep it up.

Better than other calendar applications. Gorgeous looks in a small file size. Loved it.
User feedbacks
Great looking app. Only thing I'd suggest is the option to show every day. That way we could easier see what days we have open or how far an event is. Edit: Thank you for taking my suggestion! can't wait to use this feature.

Translated from German
Super Program, after the last update you can also set the font size and the number of lines displayed, thanks to the developer.
---
Theme
Everyday has a beautiful user interface featuring the Material Design by Google and is powered by the dynamic theme to provide various customization options. It has background aware functionality to adjust views according to their background to avoid any visibility issues and hence provide color for every choice. Themes can be shared via text, URL, code or file to achieve a similar look in other apps and devices.
Each widget can be customized individually to match your style.
Some of the theme presets are available here. Please feel free to modify and share.
Apply via URL shared on Twitter!#DynamicTheme #Android pic.twitter.com/DC3jdasknA

— Pranav Pandey (@pranavpandeydev) October 10, 2019
---
Downloads
Everyday works with calendar apps based on the Google account. If you want to use it with any other service like Microsoft Outlook, then please sync it first with the Google Calendar.
Google Tasks is a separate service and tasks will not show up in the Google Calendar. If there would be enough demand, I will consider it for the future releases.
---
Buy Everyday Key for more features and to support the development.
In case of any bugs/issues, please contact me via email before making any review.